Open Telekom Cloud in the final sprint
An interview with Clemens Hardewig. He is responsible for the development of Open Telekom Cloud in the IT Division of T-Systems.
Clemens Hardewig: With Open Telekom Cloud, Deutsche Telekom is offering a secure public cloud as a Service (IaaS) solution on the basis of OpenStack. Users obtain scalable servers and storage at the touch of a button from a Telekom computing centre in Germany. Open Telekom Cloud combines reasonable prices with maximum flexibility and compliance "Made in Germany". The IaaS resources of Open Telekom Cloud can also be ordered easily online in a self-service process. The resources can be used immediately, managed conveniently online and integrated into existing IT environments via standard APIs.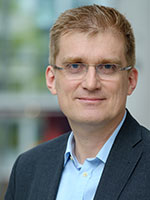 Clemens Hardewig: In many respects, we are pursuing a really new path with Open Telekom Cloud. A novel business model enables us to offer a technology platform that is no longer dominated by individual companies but, instead, is being developed by an open-source community. This not only gives us the opportunity to share in the design but also involves crucial improvements to success factors for our clients – such as in the provisioning times or flexibility yet also in terms of cost-effectiveness. This appeals to our existing clients as well as new customers.
Clemens Hardewig: The first release initially concentrates on Infrastructure-as-a-Service in the form of a public cloud offering. Supplementing this will be security features and initial offers in the field of Platform-as-a-Service. What's more, we are supplying docker containers, a technology for the integrated development and provisioning of applications. They enable companies to build applications very quickly, place them in the cloud and operate them there. Managed services are also planned before the end of the year.
My personal highlight is what are called "elastic cloud services". They provide our customers with additional capacities dynamically and at short notice. Customers do not have to take any action at all.
Clemens Hardewig: Since the end of 2015, Open Telekom Cloud has held our internal certification – the quality mark ESARIS (Enterprise Security Architecture for Reliable ICT Services). This reference architecture for securing complex production landscapes developed by T-Systems paves the way for other important external security certificates, such as TÜV Trusted Cloud Services and CSA Star Level 2. In this respect, the CSA-Star from the Cloud Security Alliance, in particular, is regarded as the most important cloud security certification at international level. This is something we wish to accomplish by the product launch for CeBIT 2016. At present, we are also examining the possibilities of BSI certification. This will establish the conditions that enable us to offer Open Telekom Cloud to customers in the public sector as well.
Clemens Hardewig: Our service will also be extremely attractive in terms of price when compared with US providers. And an additional plus is that the applications will be operated in certified Deutsche Telekom computing centres under strict German data protection law. Fully in keeping with our motto: Simple.Secure.Economical.
---